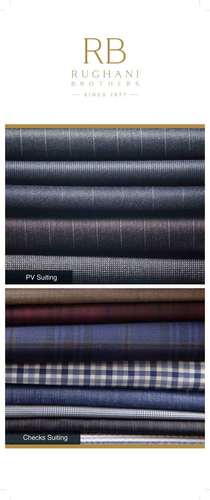 Suiting Fiber Dyed
Product Description
Suiting Fabric
Trust, Excellence, Quality, these are some of the abiding values that have been associated with Rughani Brothers over the years. We have the distinction of being one of the leading producers of Suiting Fabrics.
We produce end to end fabric solutions right from Manufacturing Fiber dyed, TR, PV, Polywool and all wool suiting fabrics to creating Suits, Trousers and Apparels.
Our Consistent focus on cutting edge research and technology has resulted in pioneering new products which have set new Bench marks in the Suiting Industry in India.
Rughani Brothers have the Distinction of producing the finest Suiting in the world using the finest quality fiber dyed yarn our Suiting fabric compresses of a wide range of Design in Stripes, Checks and Dobbies in various weaves like Tropicals, Twills, Gaberdines, Herring Bones, Birds-eye, Satin, Filafil ect in an even wider range of colors.
We provide Designing services with Design Handloom CADS.